Kenilworth students take part in time capsule handover ceremony at new school
Posted on: 23/02/2022
Students and the head of Kenilworth School have handed over a time capsule to contractors building their new £44 million school in Glasshouse Lane.
Head Hayden Abbott and members of the Student Council presented the capsule to some of the construction team for burial in the school courtyard later in the year.
Students spent weeks gathering objects which reflect modern day life to put in the narrow capsule, including artwork, information on GCSEs and A levels and lateral flow tests as a reminder of what will be a historical pandemic. Some students wrote letters to the school children who may inspect the contents when it is dug up in a far-off century.
The writers talk about current events, their favourite activities and the impact of Covid on their lives.
One student mentions Elon Musk, Donald Trump, climate change and the lack of a cure for cancer.
Another talks about his joy of being part of the Kenilworth School community and excitement about moving into the new building as well as the impact of lockdown and self-isolation and the challenges of on-line learning from home during the pandemic.
The visit also saw Student Council members given a guided tour of the site.
The project, one of the largest of its kind taking place in the UK, will see Kenilworth School and Sixth Form relocated from its two existing sites in Leyes Lane and Rouncil Lane, with the new facility opening in autumn 2023.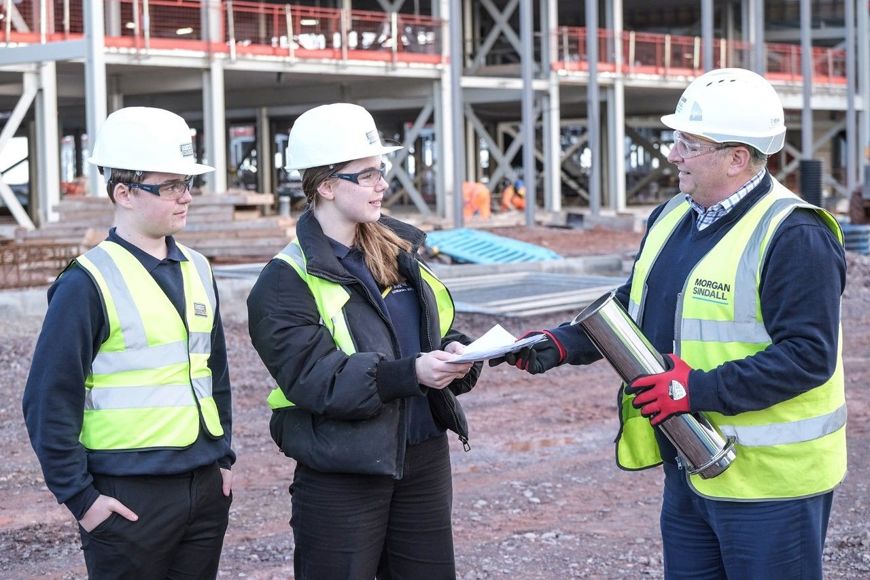 Students present some of the contents of the time capsule to Morgan Sindall Construction project director Richard Frape
Executive head of Kenilworth School and Sixth Form/KMAT Hayden Abbott said: "We have loved watching the new school sprout from the ground.
"An immense amount of hard work, dedication and energy has gone into the project over the past couple of years and to see it reach this stage is quite emotional. The construction team has kept us abreast at every stage and has involved many of our students in aspects of the build such as energy efficiency and design features.
"We are looking forward later in the year to helping bury the time capsule which will be discovered by another generation of learners in a future century."
Richard Fielding, area director at Morgan Sindall Construction, said: "The time capsule has certainly heightened excitement amongst pupils for their new home which we are proudly delivering. We want to thank the school for their ongoing collaboration on this important development and we look forward to continuing our engagement with the local community and supply chain throughout the course of construction."