Hands-on experience at new Kenilworth School site is helping NTU students
Posted on: 23/11/2021
Undergraduates from Nottingham Trent University are studying the new Kenilworth School construction project as part of their degree programme.
More than a hundred students taking the university's Quantity Surveying and Commercial Management course will be visiting the site over the course of the academic year to help them gain insight into what it's like working on a major project.
The first tranche of 40 students visited the site this autumn as part of their final year studies, with the next two groups visiting in January and March.
The visit saw them discuss health and safety issues and assess the impact of Covid and Brexit on the construction industry. They discussed ways of alleviating the challenges of a reduced workforce, social distancing and sickness cover while still meeting deadlines and ensuring the viability of a project.
The trip also enabled them to see what a £44 million project looked like in real life, experience the scale of the steel frame and get a sense of what 34 acres looks like beyond a lecture theatre environment.
The university, which has been running the Royal Institution of Chartered Surveyors (RICS) and Chartered Institute of Building (CIOB) accredited course since it was a polytechnic, has worked with site contractors Morgan Sindall Construction for the past two years.
Executive head of Kenilworth School and Sixth Form/KMAT Hayden Abbott explained: "We're delighted that as well as providing us with a state-of-the-art new home for 2,200 students, the construction site is helping inform the next generation of builders.
"As with many professions, it's important that students have hands-on experience of their chosen career before they finish their training. As well as assisting the NTU, Morgan Sindall Construction has been working with some of our own students. Between them they have been looking at environmental measures which can be taken to reduce the building's impact on the environment, both during construction and once it's in day-to-day use, as well as providing careers advice and support.
"The team has also been been excellent at sharing its passion for the construction industry and showing our students the whole gamut of careers open to them – an area they may not have considered were it not for the team generously sharing their first-hand experience and enthusiasm for the industry."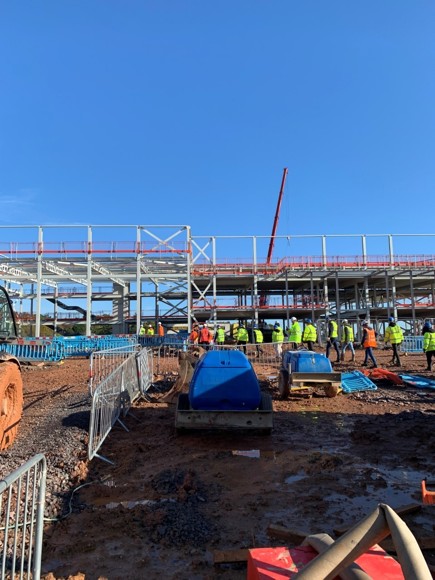 Nottingham Trent University students are studying the new Kenilworth School site as part of their degree programme.
Nottingham Trent University students are studying the new Kenilworth School site as part of their degree programme.