Campaign Projects
Going above and beyond
The Extra Campaign is all about taking the new school above and beyond expectations. With your help, we can fund a suite of additional projects that promise to enhance teaching and learning across the campus.
Your gift, which can be unrestricted or dedicated to any of the Extra Campaign projects, will take us one step closer to achieving this goal. We are also very happy to discuss recognition and naming opportunities for specific facilities or features that may be of special interest to you. To find out more, please contact us at:
The Extra Campaign projects
Technology that takes you places

We want to inspire pupils with the latest SMART technology and specialist equipment. Our aim is to facilitate a more independent, cross-curricular approach to discovery, especially in STEM subjects

Athletics for all

Sport runs deep in the school's DNA, as a former national Sports College, and for a long time we have sought to add a professional, top-grade athletics track to our existing facilities
Theatre that inspires and excites

The new school's performance auditorium will be a wonderful venue for us to showcase the artistic and technical talents of students and the wider community. With additional funding we can ensure that professional staging, lighting and acoustic enhancements are built into the theatre's design from the outset.
Making spaces sustainable

Given the focus on the climate crisis, it's vital that we model best practice when it comes to energy efficiency and waste reduction. This project will fund tree-planting and make it possible for us to expand our bike shed provision, as well as install cutting-edge solar panel technology. Our aim is to ensure that all pupils feel part of the sustainability agenda
Fully equipped, fully furnished, secure learning
Alongside all of the above, we would like to furnish and equip subject areas and communal spaces with the very latest work stations and leisure facilities making spaces comfortable for students.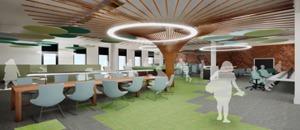 For more information on any of the Extra Campaign projects, including opportunities for dedicating your gift or naming specific areas of the new School, please get in touch as every contribution, no matter what size, is gratefully received and makes a real difference to the lives of our students.